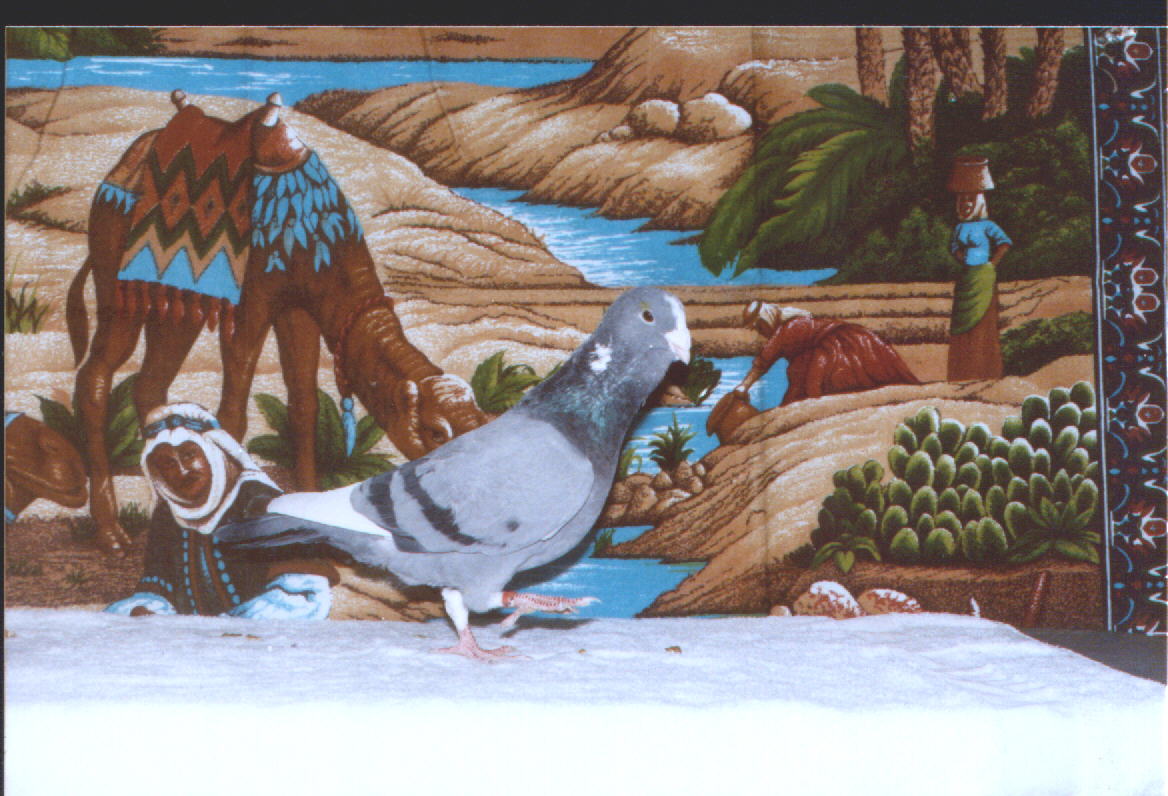 MERSİN & ADANA DEWLAPS
KÜPELİ (EARRINGED) SUMI COCK
Adana is mainly raised in the Çukurova valley of Turkey, and it is origin is this area. Like other breeds in time, it has been raised in different regions also. In these areas, because of the different breeding styles, it has been developed into sub-breeds. Another words, new qualities have been adapted to this breed in different regions.
Known with different colors and sizes, this breed, besides the local breed differences, carries same characteristics throughout this region. High and fast flight, 2 or 3 bird squadrons and the speedy dive is their main characteristics.Most important qualities the breeders look for are the high flying and extremely fast diving in this breed. In average they will stay in the air for about 10 to 15 minutes. Go up around 200 yards and make a complete dive with out stops with a speed of 130 Km. per hour. Their life expectancy is 11 to 13 years but, performance life is 8 to 9 years in total.
General Information:
A BEAUTIFUL ABRAQ COCK
They are trained at 2 to 3 months and paired after 7 months old. Male birds are considered to be ideal for flight, but females also can be as good. For quality flight and high performance these birds are allowed to feed young only 1 or 2 times in their lifetime. Any more parenting effect their performance in a negative way. They are kept in small boxes called dolap, where only two birds can fit and wireless doors closed at nights.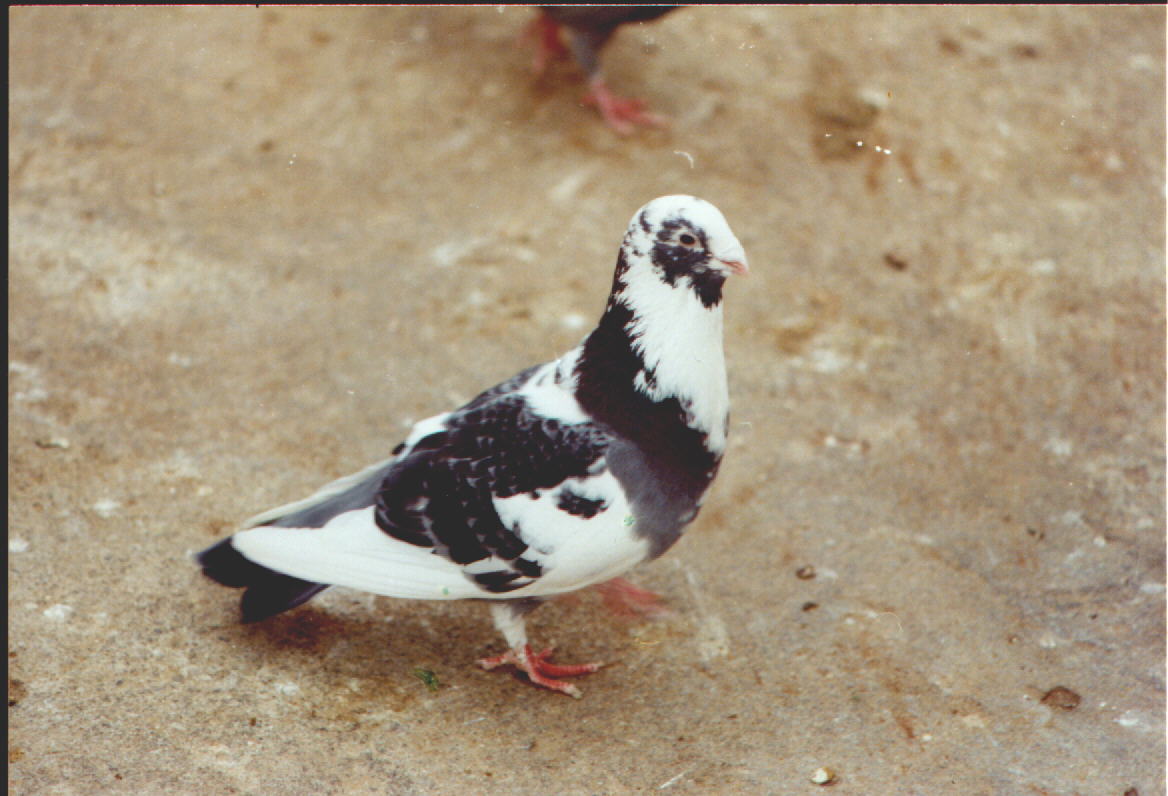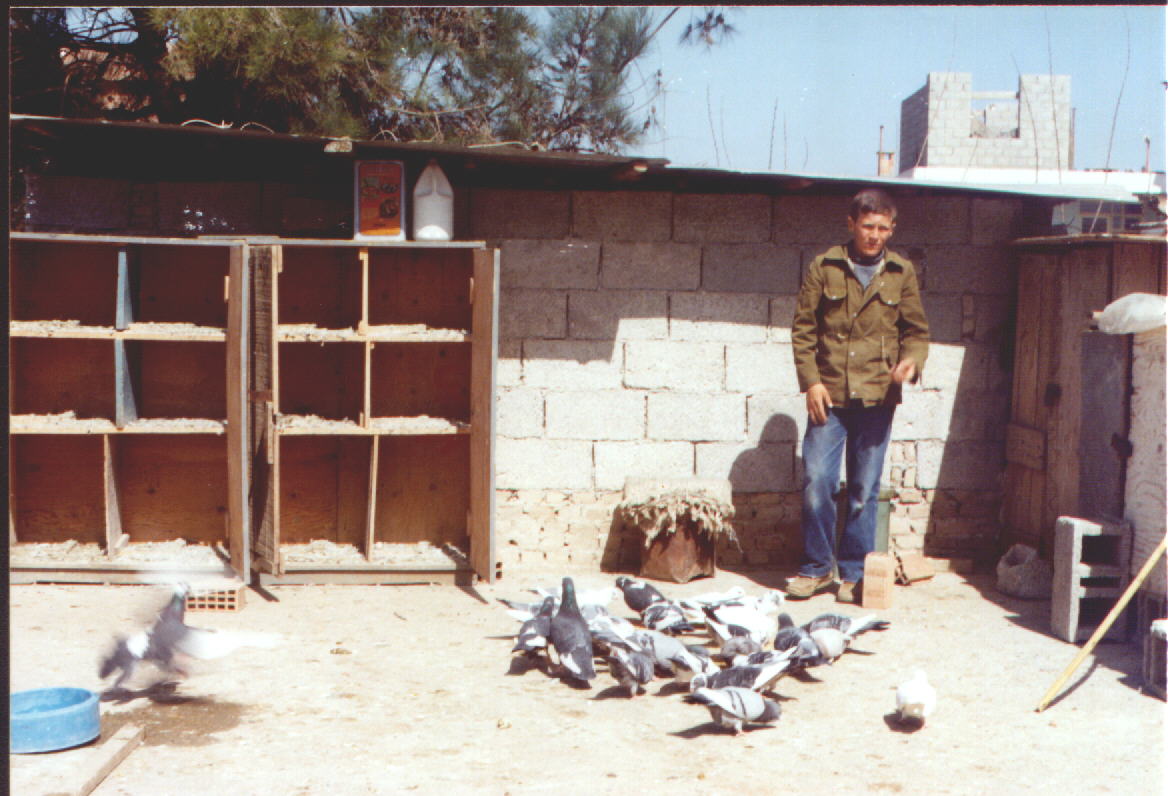 Detailed information:
FEYZİ SURCUK'S SON CARING FOR THE BIRDS
There are two types of Adanas exist: one with a short beak "Töme" and the other with a long beak "tartaç". Tartaç is mainly preferred by the breeders of Adana and Ceyhan regions. Töme is mostly seen in the Tarsus region. In the area of Mersin both types can be found in same frequency.There are two flight periods for this breed: egg and courting. Egg is when the birds are on eggs (which are taken away from them after 10 to 12 days) and this is a normal performance period.
Because of the flying motion the birds dive in, this type of dive (scissoring) is the fastest of all diving breeds.These birds are let to breed in the spring or summer. Their young are disciplined and trained by a trustworthy bird that is selected out of the squadrons. Training is done in order of strengthening the wings, breathing (used to describe lung capacity for speedy flight), two or three bird squadron kiting, high flying and finally diving.
After this the birds are separated as leader or followers and start their incredible flight careers. Reşit Serhat Aşkın Mersin / Turkey
ADANA
BEYAZ COCK AND SAFI HEN
These pictures were taken by my friend Duane Terry back in Turkey several years ago. They belong to a chap name Feyzi. Notice the boxed structure they are kept in called Dolab (means cupboard). Duane has a few of these birds in Kentucky but, always in look for a few more. I know why but, I asked Duane to tell our visitors what is so special about these birds himself. KURT
BEYAZ (WHITE) FASTEST DIVERS OF THEM ALL AND VERY NOISY AS THEY FALL.
A famous kind of Arabian Dewlap found in the Ceyhan River Basin (Adana, Turkey). These birds come in many colors, and some have an interesting hazel green eye color. But the most exciting feature about them is their nose-diving. Myself along with Dr. W. F. Hollander and Bob Pettit saw these birds in action from 1978 to 1985 in the city of Adana and surrounding region.
They are fast, very fast, making such a noise (like a rushing wind) as they fall. They are flown in small kits of two or three birds to great height and then a dropper is swung in the hand to signal them down. The birds instantly fall like a rock or bomb... straight for the Dolab or the cupboard.
INSIDE THE DOLAB YEAR-ROUND, EXCEPT WHEN FED OR FLOWN
Dr. Hollander estimated their speed at 90 MHP. That is dropping at 132 feet per second from one thousand feet. You have only 6 to 8 seconds to capture the fall. Some birds will go into a wild spin with both wings open. Some birds will come down like a rocket with the wings closed.
Others act as they are going to crash into the rooftop, then soar up like a jet airplane, making a loop and then diving back to the Dolab. Some fanciers call them Phantom Kus, means airplane bird. I could write book on these pigeons as they are so unique to any kind of Arabian Dewlaps. Signed....Duane Terry